(NewsUSA)

- Now more than ever, building relationships is important to small businesses so they can compete in the global marketplace.
The Smart Money Network is a community of digital marketing experts whose mission is to support entrepreneurs as they grow their businesses, especially in the new and increasingly online economy.
Having a partner to navigate the field of digital marketing can help small businesses get the edge they need. The Smart Money Network collaborates with small business clients and coaches them on how to engage a target audience with the right message at the right time, using a combination of digital tools and the power of persuasion.
We still receive calls and texts nearly every week asking whether The Computing Center is open for business. The simple answer is: YES, WE ARE! WE NEVER CLOSED!
All of our staff is here, available, trained, and very careful. Anyone who may have had a direct or indirect exposure to someone with Covid-19 is being tested.

We're busy, the computer technology industry has been one of the "mainstays" during the Pandemic.

We are helping business, organizations and individuals in setting up and operating secure and safe remote computing systems.

Our service department is actively repairing equipment of all kinds. We're primarily doing that in-house, but do go on-site with proper precautions.

Our engineers are working remotely and going onsite as necessary.

We actively pickup and deliver computers, printers, and consumables all over Tompkins County and beyond.
We have worked very hard at staying safe and healthy. How did we do? We're happy to say - we pulled it off. (so far)! No one at Computing Center or any of our families became infected. We did have a couple of concerning situations where employees have been exposed to others testing positive, but after testing and/or quarantine all of our staff and their families are fine.
Today, we are all still healthy, the rules and recommendations are more consistent across all businesses, and we're helping many local businesses that were shuttered reopen and recover. Our technical staff still can and does work remotely, but we also go onsite.
When you come to our offices, (Please setup an appointment) you'll find:
"X" spots all over the office floor marking off 6' increments to help people socially distance.
If you're not already wearing a mask, you'll be asked to wear one - we have extras if you forget yours. (Ours are logoed!)
We'll take your temperature (and if it's above 100.4 degrees, you'll be gently asked to leave). We'll also ask you if you've been exposed to anyone that has been ill over the past two weeks.
If you haven't made an appointment, we'll ask you to sign-in.
If you bring in a PC, laptop, or printer with you, it will be wiped down with a disinfectent cloth before we work on it.
If you're just dropping off a machine, we have a work area just to the right of our interior lobby door where you can fill-out all the paperwork without having to come into the office.
The place is spotless - it gets cleaned and disinfected daily.
This is The Computing Center's version of the "new normal". Everyone stay safe and healthy!
Please remember - Shop with locally owned businesses and organizations. That's how we will all get through this, survive and thrive.
By now you've settled into your work from home setup, which—let's be honest—you may have thrown together a little haphazardly back in March. Now that you might be working from home for the long haul, you may be looking at some tech upgrades for your home workspace. Here are some things that you personally, and your small business, can do to improve your remote setups while still staying on a budget.
The Computing Center was pleased to be one of the sponsors of a "Moment of Movement" on Saturday September 26th at the Ithaca Tompkins International Airport that was held outside on the tarmac. Trudy Baum, spouse of Computing Center Founder, Larry Baum, joined popular FLX Fitclub instructor Chantelle Farmer and her team of senior instructors (Jenny Henion, Jessica Kerns, and Carrie Susskind) along with over two dozen participants from all over our community. Moment of Movement supports our community as parents and caregivers re-enter the workforce during COVID-19 and children migrate back to school.

The money raised goes towards the Ithaca Youth Bureau and the United Way of Tompkins County. These two important organizations successfully serve the needs of youth, parents, and caregivers in our community. We all know that childcare and other youth activities are incredibly important as our community recovers from the COVID-19 pandemic and people return to work.

The airport worked with the Tompkins County Health Department to make sure all abided by NYS Guidelines for the in-person attendees. All exercise mats were placed 10+ feet apart. And with the nice breeze and beautiful weather, it was incredibly nice to be outside with many friends from around Ithaca.

The goal is to raise $100,000 collectively for the Ithaca Youth Bureau and The United Way of Tompkins County, both organizations will allocate the funds where they are needed most for programs and services that support our youth, parents, and caregivers in our community.

The Saturday live event is over, but you can still participate. The Livestreamed Video is available for through mid-October 2020 at: https://vimeo.com/462733449

To donate to this important cause:
• The link to the giving page is www.uwtc.org/momentofmovement-GIVE
• Donors can also call : 607-500-GIVE
Nearly all Computing Center clients are considered small businesses. Depending on who you ask, companies and organizations with fewer than 500 (or 100) employees are considered "small". Many businesses of all sizes are struggling - some have already closed. Depending on your industry, the pandemic has affected businesses everywhere from mild to totally devestating.
Locally, there are a number of resources that can you can go to for help including the Chamber of Commerce, TCAD, and the Downtown Ithaca Alliance. Nationally, the Federal Trade Commission, SBA, and others have been providing resources for small businesses and organizations.
It's National Small Business Week, a time set aside annually to salute American's 30 million small businesses – companies that employ almost half of the country's private sector workforce. The special focus this year is on the resilience and resolve of entrepreneurs and workers as they battle back against the impact of the pandemic. In addition to virtual events sponsored by the Small Business Administration, National Small Business Week is a good time to remind small businesses that the FTC has your back when it comes to protecting against scammers who try to exploit the current economic climate.
Here are some things we've been doing.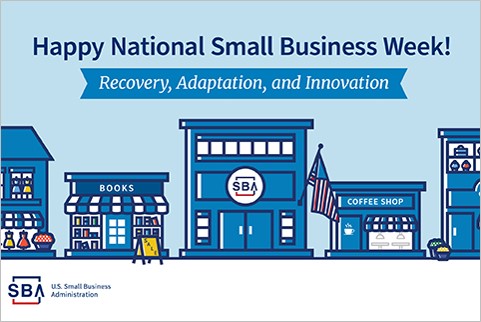 We sounded an early alarm against scams targeting small businesses and continue to issue alerts. On March 25th – just a week after many people switched to remote work – we warned you about seven coronavirus-related scams already targeting small businesses and the steps to take to protect your company, your customers, and your workforce. As new threats emerge, we've spread the word, reinforced by the thousands of reports we've received from consumers and businesses about potentially shady tactics and the trends our data analysts have detected.
We're challenging the practices of companies that have falsely claimed an affiliation with SBA's COVID-19 relief programs. Working with SBA, we've cautioned small businesses to keep their guard up before responding to solicitations that appear to have an SBA association, but really don't. We've sent warning letters and filed suit to stop allegedly deceptive tactics that could injure small businesses already struggling to stay afloat.