The Computing Center was pleased to be one of the sponsors of a "Moment of Movement" on Saturday September 26th at the Ithaca Tompkins International Airport that was held outside on the tarmac. Trudy Baum, spouse of Computing Center Founder, Larry Baum, joined popular FLX Fitclub instructor Chantelle Farmer and her team of senior instructors (Jenny Henion, Jessica Kerns, and Carrie Susskind) along with over two dozen participants from all over our community. Moment of Movement supports our community as parents and caregivers re-enter the workforce during COVID-19 and children migrate back to school.

The money raised goes towards the Ithaca Youth Bureau and the United Way of Tompkins County. These two important organizations successfully serve the needs of youth, parents, and caregivers in our community. We all know that childcare and other youth activities are incredibly important as our community recovers from the COVID-19 pandemic and people return to work.

The airport worked with the Tompkins County Health Department to make sure all abided by NYS Guidelines for the in-person attendees. All exercise mats were placed 10+ feet apart. And with the nice breeze and beautiful weather, it was incredibly nice to be outside with many friends from around Ithaca.

The goal is to raise $100,000 collectively for the Ithaca Youth Bureau and The United Way of Tompkins County, both organizations will allocate the funds where they are needed most for programs and services that support our youth, parents, and caregivers in our community.

The Saturday live event is over, but you can still participate. The Livestreamed Video is available for through mid-October 2020 at: https://vimeo.com/462733449

To donate to this important cause:
• The link to the giving page is www.uwtc.org/momentofmovement-GIVE
• Donors can also call : 607-500-GIVE
Nearly all Computing Center clients are considered small businesses. Depending on who you ask, companies and organizations with fewer than 500 (or 100) employees are considered "small". Many businesses of all sizes are struggling - some have already closed. Depending on your industry, the pandemic has affected businesses everywhere from mild to totally devestating.
Locally, there are a number of resources that can you can go to for help including the Chamber of Commerce, TCAD, and the Downtown Ithaca Alliance. Nationally, the Federal Trade Commission, SBA, and others have been providing resources for small businesses and organizations.
It's National Small Business Week, a time set aside annually to salute American's 30 million small businesses – companies that employ almost half of the country's private sector workforce. The special focus this year is on the resilience and resolve of entrepreneurs and workers as they battle back against the impact of the pandemic. In addition to virtual events sponsored by the Small Business Administration, National Small Business Week is a good time to remind small businesses that the FTC has your back when it comes to protecting against scammers who try to exploit the current economic climate.
Here are some things we've been doing.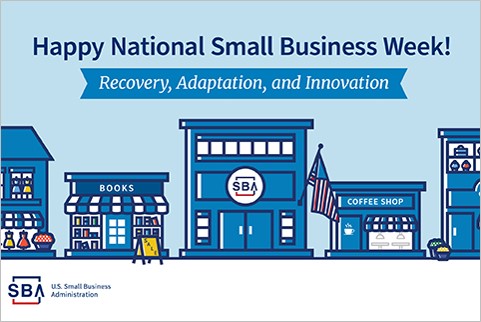 We sounded an early alarm against scams targeting small businesses and continue to issue alerts. On March 25th – just a week after many people switched to remote work – we warned you about seven coronavirus-related scams already targeting small businesses and the steps to take to protect your company, your customers, and your workforce. As new threats emerge, we've spread the word, reinforced by the thousands of reports we've received from consumers and businesses about potentially shady tactics and the trends our data analysts have detected.
We're challenging the practices of companies that have falsely claimed an affiliation with SBA's COVID-19 relief programs. Working with SBA, we've cautioned small businesses to keep their guard up before responding to solicitations that appear to have an SBA association, but really don't. We've sent warning letters and filed suit to stop allegedly deceptive tactics that could injure small businesses already struggling to stay afloat.
Editor's Note: Telemedicine has been around for several years. We've offered it to our staff as a health benefit at The Computing Center for around four years. What's happened as a result the pandemic is the what was a very slow uptake of telemedicine use has taken off dramtically. Locally, Cayuga Health System, and many physician groups now have telemedicine as part of their regular arsenal to keep us all healthy.
To call Lois Geisler reluctant to partake in her first virtual doctor's visit would be an understatement. The 72-year-old Floridian flatly refused to consider telemedicine, also known as telehealth.
"I've never thought about doing a visit like this," she says. "I've always gone into the doctor's office."
But after the COVID-19 pandemic shuttered doctors' offices for everything except emergencies, an online visit with a rheumatologist changed her mind. With no driving, parking, or time spent in waiting rooms, she accomplished in 20 minutes what usually takes her two hours.
"Unless you need to be examined, it's easier to do than traipsing to the office," she says.
Geisler is part of the sea of patients whom the pandemic has sent to the virtual world. Industry watchers are calling this the "
tipping point
" for a trend that was already gaining traction.
Editors Note: This is a good review of some of the better tech news sites. There are many sites, especially on social media, that are essentially clickbait - and nothing more. Some of this list are more general and lay-person while others are very technical. This article comes from Hewlett Packard, so there's a natural HP bias.
Tech news today is everywhere. Technology is on an exponential moonshot curve straight up. New advances in health care, space travel, computers, convenience, and gadgets pop up like high-speed dandelions. How can we make sure to read the right
stories and dodge the hype?
The biggest problem with today's top trending technology news? You can't trust all of it. Titles like "scientists create mutant zombie dogs" and "new technique may cure Alzheimer's disease" should cause vigorous head-scratching. It's tough to sift the wheat from the chaff, but there's an excellent way to stay on top of it.
How do you get tech news?
Online news is a game of eyeballs, where web publishers battle for advertising dollars. "Sensational" can beat "true," and that's a big incentive to bend the truth. Luckily, the best outlets know they'll win on high-quality content that serves up real
value. So, for the best tech news without the bunk, stick to top trusted sources in the digital world.
We've stitched up a list of the juiciest, most popular, and most reliable trending technology news sites on the web. See them ranked below, with readership and social media data to boot. We've gathered in the top news apps too, so you can pull them all together for news on tech for your home, business, gadgets, health care, space, and more.
---
Since 1978 , The Computing Center has been dedicated to providing innovative and cost effective technology based solutions to businesses and professionals in Central New York