(NewsUSA)

- Now more than ever, building relationships is important to small businesses so they can compete in the global marketplace.
The Smart Money Network is a community of digital marketing experts whose mission is to support entrepreneurs as they grow their businesses, especially in the new and increasingly online economy.
Having a partner to navigate the field of digital marketing can help small businesses get the edge they need. The Smart Money Network collaborates with small business clients and coaches them on how to engage a target audience with the right message at the right time, using a combination of digital tools and the power of persuasion.
Nearly all Computing Center clients are considered small businesses. Depending on who you ask, companies and organizations with fewer than 500 (or 100) employees are considered "small". Many businesses of all sizes are struggling - some have already closed. Depending on your industry, the pandemic has affected businesses everywhere from mild to totally devestating.
Locally, there are a number of resources that can you can go to for help including the Chamber of Commerce, TCAD, and the Downtown Ithaca Alliance. Nationally, the Federal Trade Commission, SBA, and others have been providing resources for small businesses and organizations.
It's National Small Business Week, a time set aside annually to salute American's 30 million small businesses – companies that employ almost half of the country's private sector workforce. The special focus this year is on the resilience and resolve of entrepreneurs and workers as they battle back against the impact of the pandemic. In addition to virtual events sponsored by the Small Business Administration, National Small Business Week is a good time to remind small businesses that the FTC has your back when it comes to protecting against scammers who try to exploit the current economic climate.
Here are some things we've been doing.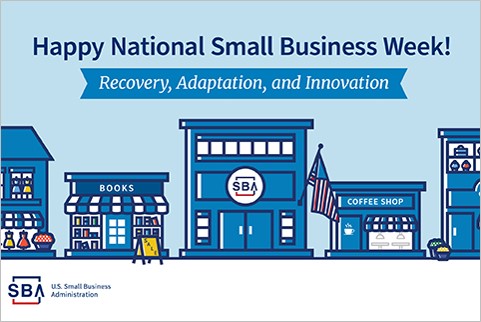 We sounded an early alarm against scams targeting small businesses and continue to issue alerts. On March 25th – just a week after many people switched to remote work – we warned you about seven coronavirus-related scams already targeting small businesses and the steps to take to protect your company, your customers, and your workforce. As new threats emerge, we've spread the word, reinforced by the thousands of reports we've received from consumers and businesses about potentially shady tactics and the trends our data analysts have detected.
We're challenging the practices of companies that have falsely claimed an affiliation with SBA's COVID-19 relief programs. Working with SBA, we've cautioned small businesses to keep their guard up before responding to solicitations that appear to have an SBA association, but really don't. We've sent warning letters and filed suit to stop allegedly deceptive tactics that could injure small businesses already struggling to stay afloat.
Editor's Note: Telemedicine has been around for several years. We've offered it to our staff as a health benefit at The Computing Center for around four years. What's happened as a result the pandemic is the what was a very slow uptake of telemedicine use has taken off dramtically. Locally, Cayuga Health System, and many physician groups now have telemedicine as part of their regular arsenal to keep us all healthy.
To call Lois Geisler reluctant to partake in her first virtual doctor's visit would be an understatement. The 72-year-old Floridian flatly refused to consider telemedicine, also known as telehealth.
"I've never thought about doing a visit like this," she says. "I've always gone into the doctor's office."
But after the COVID-19 pandemic shuttered doctors' offices for everything except emergencies, an online visit with a rheumatologist changed her mind. With no driving, parking, or time spent in waiting rooms, she accomplished in 20 minutes what usually takes her two hours.
"Unless you need to be examined, it's easier to do than traipsing to the office," she says.
Geisler is part of the sea of patients whom the pandemic has sent to the virtual world. Industry watchers are calling this the "
tipping point
" for a trend that was already gaining traction.
It has been common for most businesses, organizations, and individuals to invest in preventative cybersecurity defenses. Most organizations have technologies such as firewalls and anti-virus software that are designed to stop a cyber-attack. These controls certainly serve a purpose in fighting the war against cybercrime and should not be discounted.
But, cybersecurity professionals are recommending that we turn our attention to our ability to detect cybersecurity incidents and recover from them.
It makes perfect sense. The reality is that defending against all cyber-attacks is an incredibly hard task to do. Hackers are anonymous, perimeters are not physical, attacks are sophisticated, and the volume of cyber assaults launched every day is astounding. Defending against all cyber-attacks is a little like entering a cage fight blindfolded with one arm tied behind your back. Despite the best defensive efforts, you will get hit.
Hence the recommendation to invest the ability to recover from a cybersecurity incident. Of course we will continue to defend ourselves from cyber criminals, but we also recognize we are not fighting a fair fight, and that we may likely suffer a cyber incident at some point. The thought is simple: If or when we become a victim of cybercrime, we must be prepared to recover from the incident. We can then weather the storm.
BACKUPS ARE KEY
If you do not regularly backup critical data and systems, then you must start doing so immediately. If you do not have a documented disaster recovery plan, then you must create one immediately. In the process of creating a data backup strategy and disaster recovery plan, please recognize the nine most common mistakes made and more importantly, how you can avoid making them in your quest for recovery preparation.
There are more people working remotely than ever before. Depending on where you are and your connection to the Internet, performance may be an issue. While your connection may be slower than what you are used to in an office, keeping the connection secure is incredibly important. Remember, the bad guys are working from home too and have nothing else better to do than hack vulnerable computers.
Here are some suggestions for how best to secure your home systems.
If any of this is gibberish, please call us. 607-257-3524. We can help you out.
When connecting to your home WiFi make sure that the router is password protected and not using the default admin password that it came with.





We're all working over the phone, via email, or by text. If you get an unexpected tech support phone call, email, or text, DO NOT GIVE OUT ANY PERSONAL INFORMATION including passwords. Verify that every tech support contact (even from us) is from somone you know and can trust.
Make sure you office connections are over a VPN or other secure connection.



Make sure that your home workstations, laptops, and tablets have Anti-Virus software installed and that the "definitions" are up to date.





Watch out for fake emails, texts, and phone calls. Although the Chinese language fake phone calls have stopped (for now), there are plenty more fake ones out there. Confirm everything.
Like your personal health, keeping your technology safe is more important that ever.